Your Complete Guide to Jewelry Metals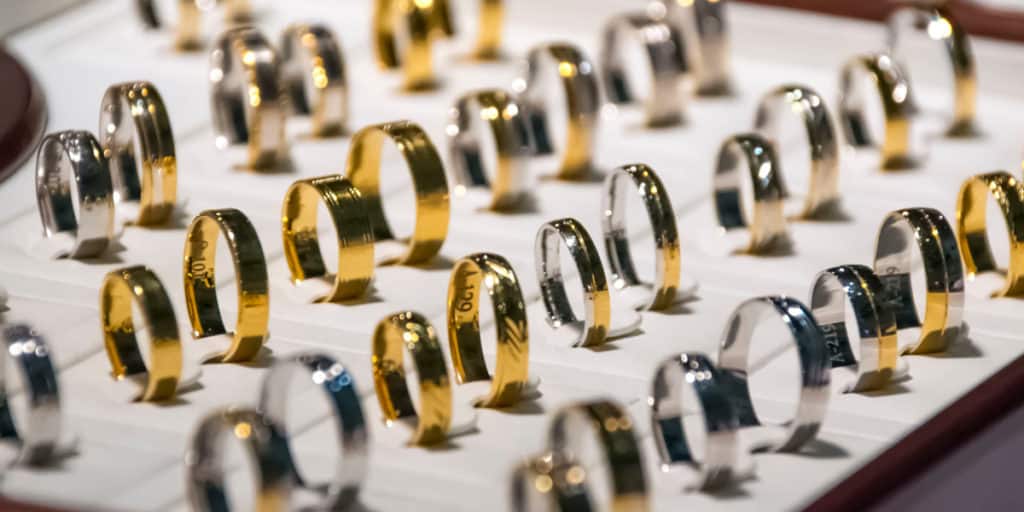 Looking for the perfect engagement ring? Or maybe a Christmas present for someone special?

When you walk into the jewelry store, you might be overwhelmed by the amount of metal choices. How do you choose the right one?

Check out our guide to metals to help you make your decision:
Yellow Gold
Used for coins, jewelry, and art since at least as early as 2600 B.C.E., yellow gold is a classic choice. While many metals are colored, gold is naturally a reddish-yellow tone, making it great for those who prefer warmer colors.

Gold is one of the most malleable metals, so the purest form (24 karat) is very soft. This makes it prone to scratches and noticeable wear and tear. For a bit more durability, you can try an alloy of gold and another, more durable metal. Try anything from 18 karat (75% gold) to 10 karat (42% gold).

Any lower gold content is not marketable as gold jewelry
White Gold
White gold is made by combining gold with nickel or zinc. It is then coated in rhodium to give it that bright white color and shine.

The rhodium coat may wear over time, causing yellow-gold undertones to show through. A simple re-coating at your jeweler will bring it right back to its original white color
Rose Gold
Rose gold has become very popular in the last few years due to its unique color and versatility. Made from gold, combined with copper, a variety of pink shades can be made to complement different gemstones.

Rose gold also looks good paired with both gold and silver, making it easy to wear in combination with existing jewelry.
Platinum
While platinum is a more expensive choice, it is also one of the strongest and most dense metals on the market. It has the highest level of purity, and is naturally hypoallergenic.

Because of its durability, platinum is great for everyday wear.

Silver/Sterling Silver
Sterling silver is a very versatile metal that comes in a variety of finishes from oxidized black to a more traditional chrome.

Because it is naturally soft, it is often mixed with other metals for strength. However, to be considered "silver" or "sterling," the jewelry can contain no less than 92.5 percent silver, making it one of the more pure options.

Sterling silver also tends to cost less, making it the most budget-friendly of the metals.
Titanium
Not a precious metal, titanium is a durable but also lightweight option. Because of that, it does scratch easily and shows wear and tear. It cannot be resized.
Tungsten
Tungsten has become a very popular option in modern wedding bands. Durable and scratch-resistant, it is a great choice for those with jobs that involve physical labor, especially those that are rough on hands.

Because of its strength, one of the downfalls of tungsten is that it cannot be resized. Should your ring become too small or too large, you will have to send it out to be replaced by a brand new ring. Check with your jeweler to see if they offer some sort of deal for tungsten ring replacements.
Trusted Jeweler in Frederick, MD
Whether you need jewelry for an engagement, anniversary, or just because, Gold Thumb Jewelry has you covered! We carry a wide variety of rings, necklaces, bracelets, and more in a number of metal and stone combinations.

Don't see something you like? Why not design your own? With our computer aided design and crafting, you are sure to get a quality, custom piece, unique to your style. Contact us today!