Your Guide to Women's Wedding Bands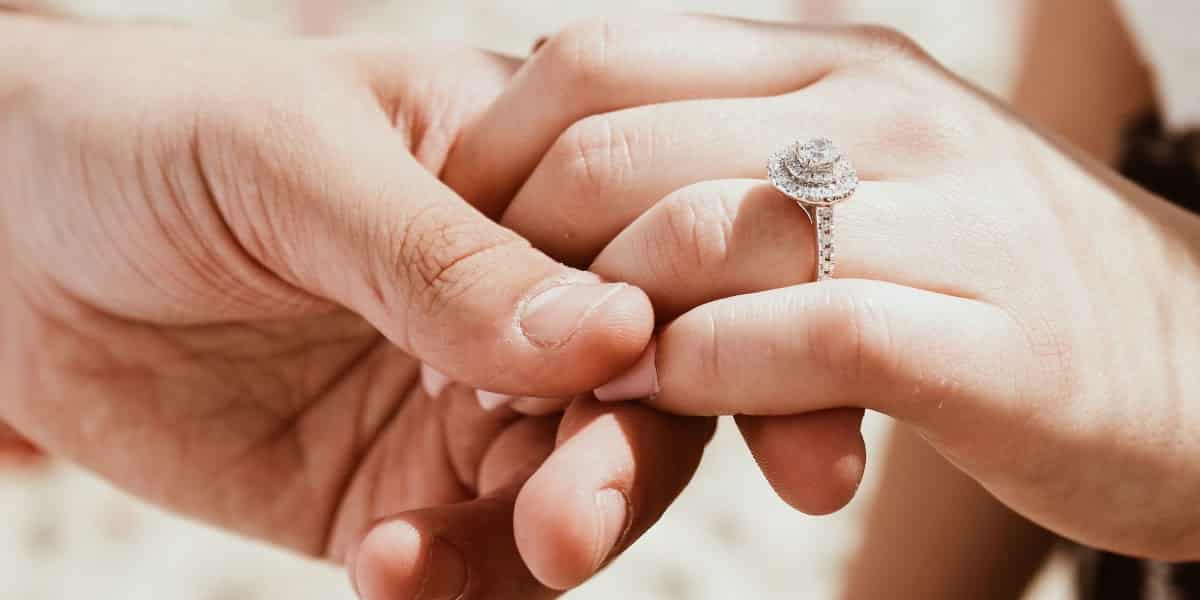 Are you incredibly overwhelmed with your wedding band choices and have no idea where to start? Well, here's a perfect place.
We have all of the information to help guide you in choosing a perfect wedding band that you'll love for decades. So, let's begin!
Where to Start
If you're just starting your journey to find the perfect wedding band, you should always begin with your engagement ring.
Most women opt to match their wedding band with their engagement ring since they are often worn in tandem. This helps narrow down many of your options.
You should also consider whether you want to have your wedding band and engagement ring soldered together, which will narrow down your options further.
However, just because the majority of people match their rings, you do not have to.
Many other women opt to design their wedding band completely different from their engagement ring.
Whether you don't plan to wear the two together, or you like the look of mixed materials more, your decision is totally valid. Go with whatever suits your style since you'll be wearing it for life!
Metal
The first big decision in choosing a wedding band is picking the metal type.
The most common metals used are:
Yellow gold
White gold
Rose gold
Platinum
Palladium
Tungsten
There are several ways to narrow down your metal type, starting with color. If you want to match your engagement ring to your wedding band, then this decision has already been made for you.
Otherwise you may want to experiment with what metal colors you like best. Think about what jewelry you wear most often, and consider matching your wedding band to those pieces.
Another way to choose your metal is by durability. If you work with your hands frequently, you may want to pick a more durable metal. We recommend choosing tungsten or platinum.
Stones
You may wish to add stones to your wedding band to give it more flair.
This is especially true if you plan on wearing it alone. Most times, stones come in eternity bands or half-eternity bands. An eternity band is when small stones line the entire ring and a half-eternity band is when the stones only line the front of the ring.
Once you have decided if you want a half-eternity or eternity band, you need to pick how you want the stones laid.
The two most common ways are known as pavé style or channel style. Pavé style is when the stones are set on the band with tiny prongs holding each one. This style is the most popular, but carries a high risk for damage. The channel style involves a channel being cut into the middle of the ring and the stones being set within the channel. This option is more secure, but less flashy.
The most common stones used in wedding bands are diamonds, rubies, or sapphires. Despite this, you can choose any stone you wish. Additionally, some jewelers even offer different metals and woods as options.
Engraving & Etching
One important question to ask yourself is if you want engravings or etchings on your ring.
Metalwork can give the ring more character, but can lead to additional expenses. Engravings are also a lovely way to make your ring more special and unique to you.
Just keep in mind, engravings and etchings add more crevices to the ring which lead to dirt collection over time.
You will likely need your ring professionally cleaned more often if you opt for these features.
Width
When choosing the width of your ring, go with what feels best.
Wedding band widths range anywhere from 1 mm to 8 mm. Most commonly, a woman's wedding band is between 2 mm and 4 mm wide and matches the width of the engagement ring.
When choosing width, make sure bending your fingers is comfortable with the band width and that it does not pinch anywhere.
Finish
Rings can come with different finishes. Different finishes are more common on male wedding bands, but women have the option as well.
Textured finishes range from stone, brush, matte, hammered, or sandblast. The other more common finishes are satin or high polish.
Typically, you want to match the finish of your wedding band to the finish of your engagement ring. Another option is matching the finish of your wedding bands to your partner's ring.
Ring Shape
The last thing to consider is your ring's silhouette.
You may want your ring to be shaped straight or perhaps you want a shadow ring that follows the curvature of your engagement ring. If you want your engagement ring soldered to your wedding band, then you want to opt for a band that matches your engagement ring.
Otherwise, you can mix up your band shapes to create unique gaps between your rings if you wear them together!
Choosing a wedding band is a big decision. There's many different aspects to consider and options for personalization. The best thing to do when deciding is follow your heart and your own personal sense of style.
You're the one wearing it for the rest of your life, so pick what you like!
Wedding Bands in Frederick, MD
If you're looking to find your perfect wedding band, look no further than Gold Thumb Jewelry in Frederick, Maryland. We have a gorgeous selection of rings and expert jewelers to guide you in your decision. Contact us today!