Feeling Irish? 6 Pieces of Celtic-Inspired Jewelry
Once the month of March rolls around, everyone starts feeling a little bit Irish with St. Patrick's Day on the horizon.
But beyond the usual green clothing and rainbows everywhere, the Emerald Isle is a country rich in history and tradition.
If you'd like to carry a little bit of Ireland around with you all year, here are 6 pieces of Celtic-inspired jewelry to consider:
Claddagh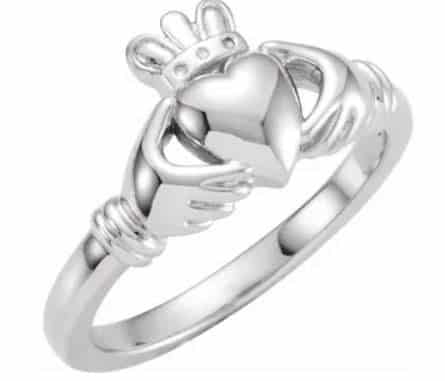 Often found on rings that are worn with the point of the heart facing different directions based on the person's relationship status, the Claddagh originates from the Galway region of Ireland.
Symbolizing friendship (the hands), love (the heart), and loyalty (the crown), Claddagh rings are popular in America.
You also can find Claddagh on bracelets and necklaces if rings aren't your style.
Trinity Jewelry
The trinity symbol – representative of the Holy Trinity – is a popular image for jewelry, textiles, and other iconography in Ireland.
You can find this symbol on pendants, across the band of a ring, or even on a pair of stud earrings as a subtle nod to Ireland.
Celtic Knots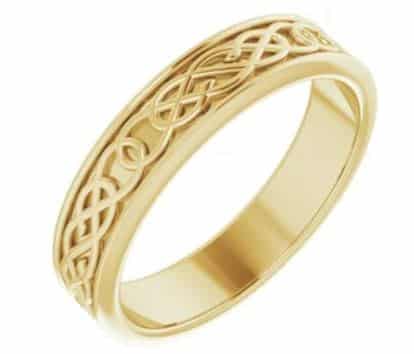 14K yellow 5 mm Celtic-inspired band
Like the trinity symbol, Celtic knots are one of the most recognizable patterns in Irish design and iconography.
These stylized knots are found on everything, from wall hangings to tombstones, and are thought to come from the ornamentation on Christian monuments and manuscripts.
You'll find Celtic knots across the bands of rings, on delicate bracelets, or on chain necklaces.
Celtic Crosses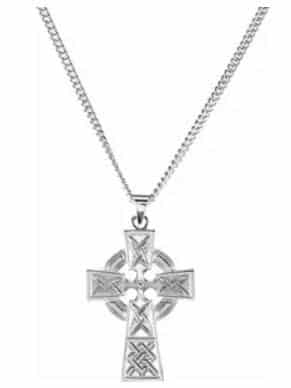 Sterling silver Celtic-inspired cross necklace
Because Ireland is a deeply Catholic country, Celtic crosses are an important, frequent symbol found on jewelry.
The thing that sets a Celtic cross apart from a traditional cross is the ring, or nimbus, that surrounds the apex of the cross. Celtic crosses can be as simple or as ornate in design as an individual wants, but a cross is considered Celtic as long as it features the nimbus.
Many Celtic crosses also include other aspects of Irish design, such as Celtic knots or the trinity symbol.
Clover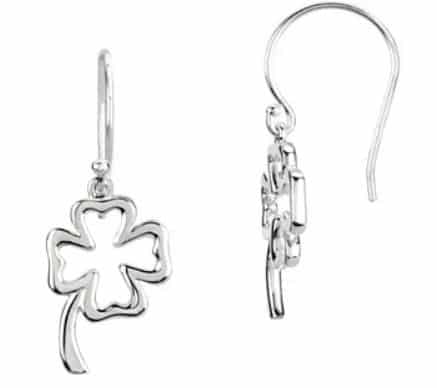 What collection of Irish-inspired jewelry would be complete without at least a little bit of clover?
The ever-present symbol of St. Patrick's day can be found on rings, bracelets, pendants, and earrings, and may or may not feature gemstones.
Emeralds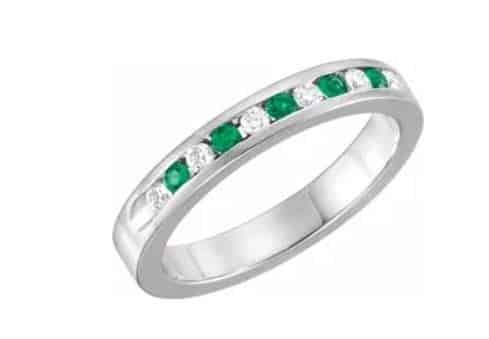 Emerald & ⅛ CTW diamond classic channel-set anniversary band
Last, but certainly not least, emeralds are iconic in Irish-inspired jewelry.
Whether you choose a stunning solitaire emerald ring, a simple pendant, or a bracelet crusted with the tiny green stones, an emerald is sure to please anyone looking for jewelry that reminds them of the Emerald Isle.
Beautiful Jewelry for All Occasions in Frederick, MD
From everyday bracelets to engagement rings, men's watches to heirloom pieces, the team at Gold Thumb Jewelry has a premier selection of jewelry to suit all needs. And, if you don't find something you like in our collection, our team of designers can help you create a custom piece exactly to your specifications. Call today!