6 Basic Pieces to Begin Building Your Jewelry Wardrobe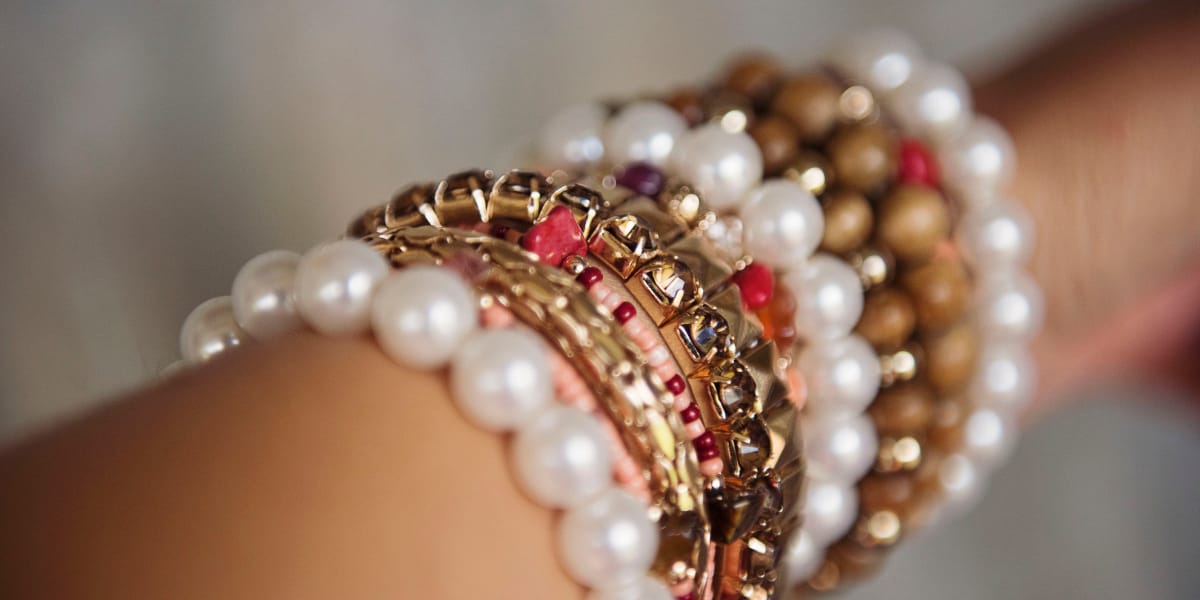 Jewelry provides an extra boost to every outfit, from casual to formal.
But if you don't currently have any jewelry, or you're looking to upgrade what you have, how can you get the most complete jewelry wardrobe without buying too much?
Here are 6 basic pieces you'll need to begin building your jewelry wardrobe:
Stud Earrings
Traditional advice is to get a great pair of diamond studs to begin building your jewelry wardrobe.
However, you can get a great pair of stud earrings in any metal and with any stone and still have the basic, versatile pair of earrings you're going for.
A basic pair of stud earrings can take you from a casual Saturday in jeans to a high-class affair in a ball gown without missing a beat.
While a clear stone such as a diamond or even a set of pearl earrings is going to go with most any outfit, don't be afraid to express your personality and individual preferences by choosing a different stone or even a mixture of clustered stones.
Bracelet
Tennis bracelets used to be the thing that all women had to have in their jewelry wardrobes.
These delicate beauties are classic for a reason – they catch the light and sparkle as you move your arm so everyone knows you're wearing a beautiful bracelet.
Now, having a great bracelet in your jewelry wardrobe, whether it be a tennis bracelet, a set of bangles, or something else, is totally up to your own style.
Choose something that fits your lifestyle. If you're a rough-and-tumble kind of person, a delicate bracelet with lots of stones that can get loose might not work out.
Don't be afraid to showcase your personality! Whether you choose to have single-color stones, include a variety of colors, or go without stones, finding something you love and will wear is most important.
Pendant Necklace
A simple pendant necklace can go with every outfit, whether it's jeans and a t-shirt or a skirt and heels for a night out.
Select something that you can see yourself wanting to wear every day, with a metal and stones that fit your style.
If you want a simple statement pendant, consider a drop stone or collection of stones.
Some popular shapes for pendant necklaces include hearts, initials, and circles. 
Statement Ring
Having a dynamic statement ring – or cocktail ring, as they're sometimes called – can make or break an outfit.
Statement rings are a great way to show off your bold style, whether that be in the color of the stone or the sheer size of the ring.
If your jewelry wardrobe is fairly monochromatic, consider choosing a bright stone for the statement ring, such as an emerald, ruby, or sapphire. Or, if you're usually a one-stone kind of person, think about a statement ring that gives you a cluster of stones.
No matter what you choose, your statement ring is sure to spark a great conversation!
Pearls
A great set of pearls is the solid building block for a gorgeous outfit.,
If you're wearing jeans and a t-shirt, it's automatically elevated by adding a strand of pearls.
And if you've got a ball gown or cocktail dress, add a classic touch.
For those who love color, there is more to choosing a set of pearls than just basic white. Choose blush pink, gold, or even jet black.
Play around with the type of pearl necklace, as well. If you're not really into buying a strand of pearls, try a pearl pendant. Or, for an even bolder statement, opera-length pearl strands can be doubled up to create a dynamic look.
Watch
With the advent of cell phones in our pockets, the need for a watch to always keep track of the time has largely gone out of style.
However, the look of having a delicate, well-designed watch has not.
You can go for simplicity with a single-metal watch with a simple watch face. Or, mix up the metals for an interesting look.
Watches are even available with interchangeable bands and faces, allowing you to swap out the look of your watch based on the occasion and your outfit.
Quality Jewelry in Frederick, MD
At Gold Thumb Jewelry, we pride ourselves on offering high-quality jewelry for every price point. Whether you're looking to select a piece to take home today or want to create a custom piece, our skilled team can help you find exactly what you're looking for. Contact us today!